The Lander Business Park is 14 lots- Ready-to-Build with infrastructure and off-street parking.
Lots range in size from 0.35-0.95 acres.
Lot Prices @ $10 sq. ft.
No State corporate or personal income tax
No Inventory tax
Sales & Use tax exemptions for Manufacturers 31-33 NAICS classification
6 lots available
Current Pricing and Covenants & Restrictions

Tiger Joint Powers Board, Owner
For more information contact: City of Lander, Community Resources Dept.
Phone: 307-332-2870
FAX: 307-332-4317
gmichaud@landerwyoming.org

See below for great reasons to locate your business in Lander, Wyoming!

Click map to see larger image. (PDF, must have Adobe Acrobat)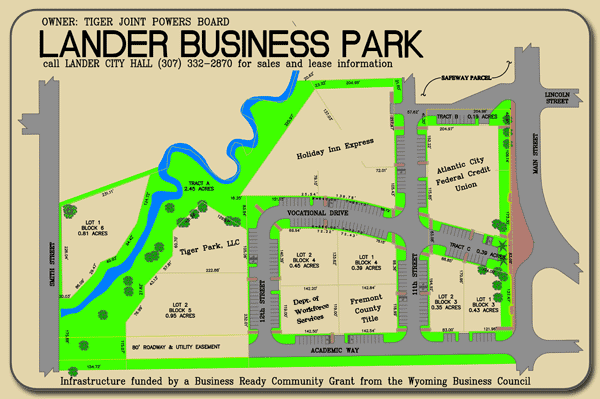 Local Links:
Lander, WY home of the Lander Business Park, has been recognized by the following publications:
Sunset magazine- March 2009- 20 Best Small Towns
American Cowboy magazine- April/May 2009- Top 20 Places to Live in the West
Fly Rod & Reel magazine- March 2009- Top 10 Trout Towns in the Northern Rockies
True West magazine- January 2009- Top 10 Towns to Watch
Lander's Annual Events:
January- International Pedigree Stage Stop Sled Dog Race- Largest in the "Lower 48"
June- Brewfest
July- International Climber's Festival
September- Lander Fly-In and the One Shot Antelope Hunt
October- Heart of the West Invitational Art Show & Sale
Lander is home to: